Just found this post? Find the start of the journey here and days 2 and 3 here.
(All daily mileages are approximate estimates, and certainly underestimates. They do not include any spur trails, portage trail side-trips, wanderings-around to try to re-find the trail, etc.)
July 3, DAY FOUR: Rose Lake to Gogebic Lake (12 miles)
We woke up earlier the next morning, determined to hit the trail earlier than our previous routine and beat some of the heat. While I was down at the lake, scooping water to re-fill the gravity filter, I thought I heard voices from behind me and up the slight hill at the site. When I walked back up, I caught a glimpse of a tall, blonde, Nordic-looking woman with a pack striding away into the trees. Heather gave me a Look. "I might have just seen a ghost," she said. The woman had apparently appeared silently out of nowhere – Heather is certain she came out of the woods, not from the trail – walking fast, and when Heather said, "Oh hi, good morning!" all she did was clip "Have a nice day" and carry on. She was the first (presumed) BRT backpacker we'd come across (or potentially the first ghost.)
My strange maybe-bite was still tender, still gray-purple. Heather kindly swabbed it with an antibiotic cream and covered it with a Bandaid.
It was a fun day of trail. There was a long stretch that made use of a BWCA portage trail, and was thus better maintained than anything we'd hiked on yet. Much of it traced the actual border between the US and Canada, so that if we stepped off the trail to our left, we were in Canada; to the right, in the United States. I did this a couple times, you know, for the novelty. A burbling stream chased along us to the north for quite some time, and the ground was thick with Canada dogwood and sarsaparilla and moss. One section, that briefly overlapped with an old, gravelley, railroad grade had been completely flooded thanks to a beaver dam, so we pulled off our boots and socks and waded along it. The water was shin-deep, clear, and very warm. There was arrow-root shining in the sun and an enormous bullfrog.
It was, again, exceedingly hot.
Sometime after lunch, we rounded a bend in the trail and ran into a boisterous, exuberant family – two older parents and their grown children, we gathered. They were overnight paddlers on a day hike, and they were delighted to meet us and eager to share the weather report. From this, we learned that we'd been hiking, and would continue to hike – been hauling up and down steep cliffs on poorly maintained trails with full packs – in temps in the mid-nineties, with humidity levels above 90%. It was a full twenty degrees hotter than we'd planned for.
We thanked the family and bolted onward to a junction with a portage trail, where we hurried left to Mountain Lake to re-fill our empty bottles. They joined us again there shortly thereafter, however, and stripped to swimsuits. For awhile, we all sat around on the rocky beach and chatted, while Heather and I waited for our gravity filter to re-fill our bottles and ate copious amounts of snacks. They were also from the Twin Cities, and the mom and Heather found a mutual acquaintance. We watched them, ridiculously, try to use a LifeStraw filter for awhile to fill their bottles, as their sole filter, and offered them our extra squeeze filter to use, which they accepted gratefully.
We pushed onward. Our plan was to camp at the Clearwater Lake East campsite, and when the crude turnoff sign for it appeared, I was delighted. It was still relatively early-ish in the afternoon and I felt pretty good, after a day of easier trails than the fire-burned, overgrown miles. I wanted to pull my boots off and swim.
We started hearing voices at the end of the spur trail, and popped out to a gorgeous, rocky site on a cliff overlooking the lake, positively packed with gear. It smelled like hot pine needles. There were three or four hammocks hung up in the trees, two big tents, bags and lanterns and books scattered over the basalt, and two canoes pulled up on a rock shelf below. Two kids were in the hammocks, and the presumed parents, a middle-aged man and woman, looked up at us, looking confused by our sudden presence and our appearance out of the woods. We'd vaguely known that some of the (few) Border Route Trail campsites were shared with BWCA canoeists, and all technically first-come-first-served, but we'd been encountering so few others on the trail – and none at any of the sites – that we'd ceased to consider this one being taken. At any rate, there were several empty, decent-looking, possible tent pads on the small cliff, tucked almost out of view from their encampment.
"Hey, afternoon!" I called. "Mind if we put our tent up over here and share your site for the night?"
I meant this as, basically, a formality. I was used to backpacking on the Superior Hiking Trail and Isle Royale, where sharing "sites" – collections of possible tent pads with a shared rustic toilet – is the norm. It was getting late in the day, it was ninety-something degrees, and the next site was 2.5 miles farther down the trail.
There was a second of silence. "Well, no offense," the man said. "But these sites are first-come-first-serve, as I understand, and we were here first, so-" He looked to his wife, seemingly shocked.
"We have a special Boundary Waters permit," his wife said. "You need a permit to be here. Did you walk off the Superior Hiking Trail? I don't think you need a permit there."
"We're hiking on the Border Route Trail," Heather said. (The SHT was 30 some miles away at that point.) "We also have a BWCA permit," I pointed out.
They did not budge. There was some back and forth. Heather and I briefly conferred, under our breath. "We'll just go," one of us said. "The next site is 2.5 miles. We have lots of time before dark. It'll be fine." We turned abruptly and backtracked down the trail without saying much of a goodbye, if any, but 30 seconds later Heather said something like, "Fuck it, I still have to poop though. I'm going back to use the toilet," and we went back.
"Don't worry, don't worry," Heather said, "I've just been walking all day in the heat and to be honest I really need to use the toilet. I'm just going to head up there real quick."
She got a laugh from the guy. "Of course, of course," the woman said, and Heather darted up the side trail to the outhouse. While she was gone, the woman said, "Look, we've been talking, and if it's really just one night you'd be staying here, it's fine if you stay. We know it's hot out." I could imagine nothing worse than gingerly tiptoeing around them all evening, skirting past them to use the toilet, feeling a burden. Skinnydipping would also certainly be out.
"It's fine," I said. "Yes, it's one night, we're thru-hiking the trail, but we're feeling pretty good and making good time today, so we'll just keep going."
Heather returned and we gave curt waves and speed-walked back to the main trail, which now felt something like home. Out of earshot of the family, Heather revealed the big win – stolen wares. Their toilet had been stocked with a gallon-ziploc of prime, plush, triple-quilted toilet paper, and she'd snagged a whole fresh roll for us. We were gleeful.
Once we hit small Gogebic Lake, we started scouting potential camping locations, in case our Plan B site on the lake was also already occupied by unsociable jerks. The land around the lake was relatively flat and we found a few decent options, in case of dire need, but happily, we found the Gogebic Lake site empty. It was right on the water, but overgrown shrubs meant there was no lake view, and the site was littered with deadfall and had a slightly eerie vibe. No mind. We shed our packs, boots, clothes, and swam.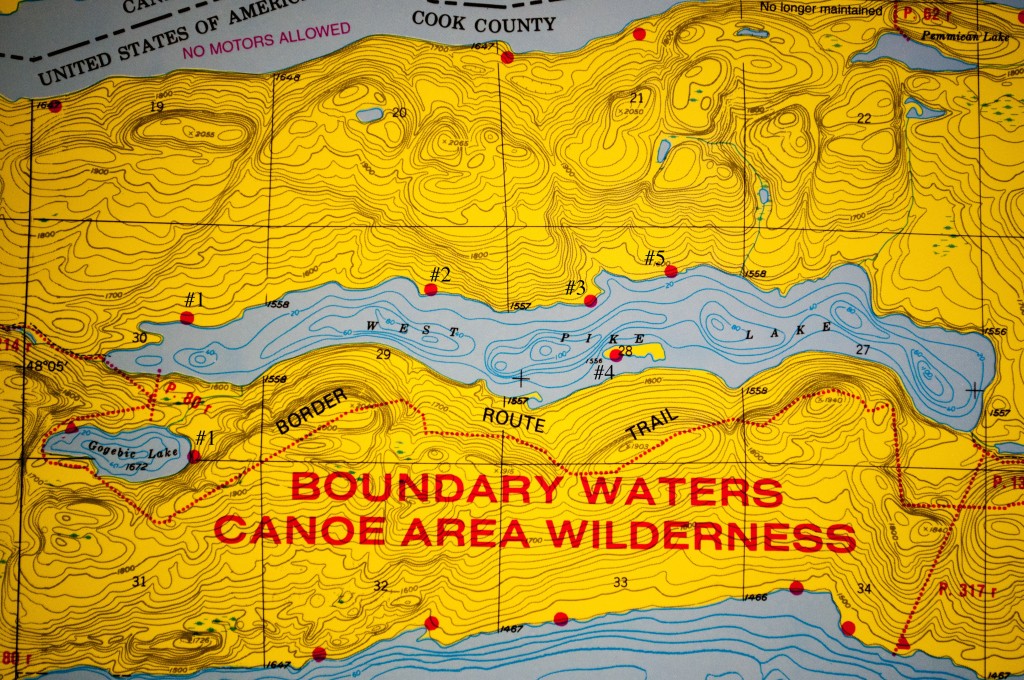 Dinner was freeze-dried rice and beans, tortillas, string cheese, foil packets of salmon, and packets of Taco Bell hot sauce. It tasted phenomenal. We ate under the loud chorus of frog song. I stretched my legs out in front of me and marveled at the horror show they'd become – marred everywhere with enormous red bug bites and long scratches. My weird shoulder bite, Heather informed me, had kind of sunk. I blobbed some more antibiotic cream on it, just in case.
(Photo credit: The latter three photos in this post were taken by Heather! The map image is from Clearwater Lodge. My phone was nearly out of battery by breakfast on Day Four, so I turned it off and left it off for the remainder of the trip.)
Keep Reading: Find Day 5 here and Days 6 & 7 (plus our tips if you plan to hike the trail yourself) here!